Till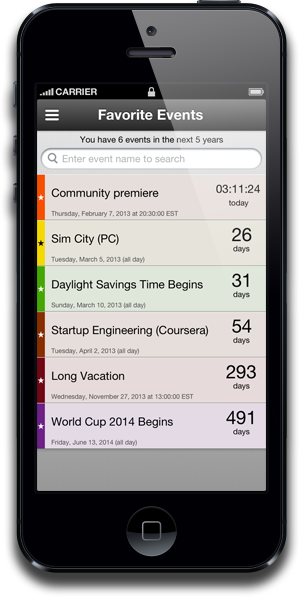 Countdown to Events in Your Calendar
Have you ever wanted to know how many days are there until the next long weekend, your anniversary, or that movie you've been dying to see?
Till is an app that can show you just that!
It allows you to:
see events already in your device's calendars – no need to add events in multiple places
favorite events that are most important to you
favorite your top calendars
see all events at once, all events in your favorite calendars, or events in a specific calendar only
choose to see all instances of repeating events, or just the next one
select to show events for limited time period only
see a live countdown to events happening today
see the date and time of each event
search / filter events

Features
Event List
The Event List gives you a quick view of the events that are located in the Calendar app on your device.
Each event's name, starting date and time, and time remaining until the event begins are shown. If the event begins today, a live countdown is shown.
To preserve space, the name of the calendar in which an event is located is not shown. However, the colors of each event are taken from its calendar's colors. The margin matches the color of the calendar exactly, and the background is turned into a pastel version of the color to increase readability.
In the Calendar app, give your calendars colors that are meaningful to you, and you will be able to quickly identify the calendar every event belongs to.
Favorite Events
You can mark any event as a favorite by double tapping on it. To un-favorite it, just double tap again.
Favorite events are marked with a Star icon on the margin of the event.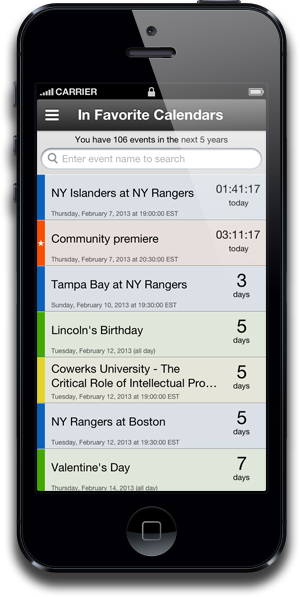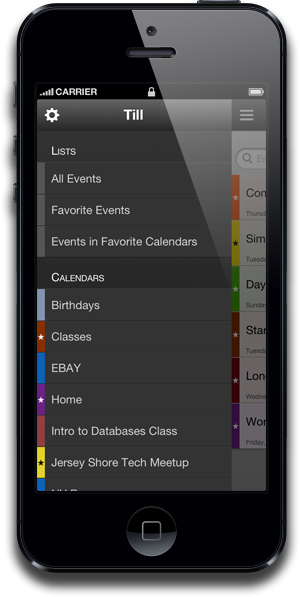 Lists and Calendars
The Lists and Calendars screen can be accessed by tapping on the Menu icon in the upper left corner of the Event List.
This section allows you to select what is shown in the Event List. You can choose from three lists:
All Events – see all events that Till imported from your Calendar app
Favorite Events – events you have marked as favorite by double tapping them
Events in Favorite Calendars – all events that are in calendars that you have marked as favorite.
You can also look at all events in any one calendar by tapping its name.
Favorite Calendars
To make a calendar a favorite, double tap on its name, and double tap again to un-favorite it. Like favorite events, favorite calendars are marked with a Star icon next to their name.
Settings
The gear icon, located in the upper left corner of the Lists and Calendars screen, allows you to enter the settings screen.
On the settings screen you can:
select how far into the future Till should look for events in the Calendar app
select how to display reoccurring events – you can choose to see only the next one, or all of them
select whether to show event's starting date and time on the Event List – you can turn this off to see more events at once
From the settings screen you can also access the About section by tapping on the Heart icon in the upper right corner. The About section contains the link to the support e-mail, if you ever need help with Till.
Search and Count
At the top of the event list, there is a search box that allows you to filter events in that list to quickly find what you are looking for.
And the count above it, gives you a quick idea of how many events are in the event list, both unfiltered and filtered.
Scroll to Top
If you are looking at a particularly long list of events, and find yourself needing to scroll back to the top, simply tap on the name of the list or the calendar above the search box and Till will scroll the list for you.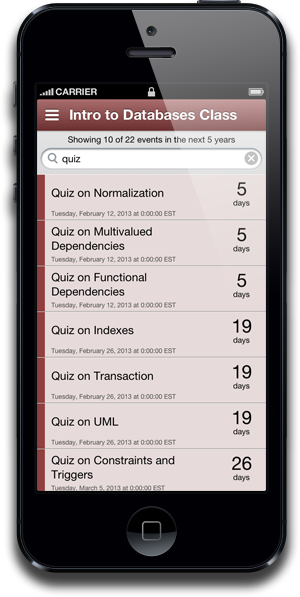 Answers to Frequently Asked Questions
General Questions
What devices does Till run on?
Till requires iOS 6 or later. It will work on any iPhone or iPod Touch that uses the required version of iOS. Till will also work on an iPad with iOS 6 or later, however, the app is not specifically designed for the iPad screen.
These ads are distracting. Can I remove them?
Yes, you can now remove ads via an in-app purchase. This option is available on the Settings screen under Remove Ads.
I have already paid for ad removal – why do they show up?
If you've deleted and reinstalled Till, or if you are using this app on a new device, you need to tell Till to connect to the App Store before ads will disappear. You can do that on the Settings Screen under Restore Purchases.
Will there be an iPad version of Till?
At this time there are no plans to make a version of Till designed specifically for the iPad. However, that might change, if there is enough interest to support development of an iPad version.
Questions about Features
How do I make the icon show count down to my events?
It is not possible for icons to change in iOS (the Calendar app can do that because it's written by Apple). Although it is possible to display numbers using icon badges, Till does not support this due to technical reasons.
Can I add events in Till?
No, events cannot be added directly to Till.
Till is meant as a companion app for the Calendar app that is already built into your device. You can add, remove, and edit events in the Calendar app.
Can I set alarms in Till?
No. The calendar app is a perfect place to do that.
Privacy
How does Till use my personal calendar data?
Till reads your calendar data only to display it back to you. It does not transfer this data anywhere.
The current version of Till, does not modify your calendar data. In a future versions, if a feature is added that would modify your data, it would be optional and turned off by default.
You can always find the most up to date privacy policy in the app itself. In case of Till, it is located in the About screen that can be reached from the settings screen by tapping the Heart icon in the upper right corner.
Technical Support
To contact support, in Till:
open the Settings screen by tapping the Gear icon on the Lists and Calendars screen
open the About screen by tapping on the Heart icon
tap on the Envelope icon
if you are having problem with Till, please flip the switch to the ON position to include information about your calendars and events. This information will help us to troubleshoot your problem and will not be used for any other purposes. You will also have a change to review this info before the e-mail is sent
tap the Compose E-Mail button to write and send an e-mail message to our support address
If you prefer, you can also contact support through the Contact page on this web site